17.12.2016 AGILITY KD Postojna
MONAMI A2 LARGE jumping/6, agility/3- skupaj 2 mesto (dva cista teka brez napak)
Schap ovcji kodr my bear DIDIDO A1 MEDIUM jumping/3, agility/3- skupaj 2 mesto
4.12.2016 Schap Ovcji koder my bear DIDIDO z odliko opravila izpit poslusnosti BBH. Z njo pa se je prvic preiskusila v tej disciplini hcerka Melisa. Super sta pokazali znanje, ki sta ga pridobili pod mojim vodstvom in vodenjem. Vse nase sapijke imajo opravljen osnovni izpit poslusnosti, Bella in MonAmi z mano, Didido z Meliso.
Schap Ovcji koder my bear DIDIDO passed the examination with distinction obedience BBH. This is the first test in this discipline for daughter Melissa.They Super demonstrated the knowledge they have acquired under my leadership . All our schapendoes have passed basic obedience exam, Bella and MonAmi with me, Didido with Melisa.
REZULTATI VSEH TEKEM ZA DR?AVNO PRVENSTVO 2016
RESULTS ALL MATCHES FOR NATIONAL CHAMPIONSHIP 2016
MonAmi A2 - LARGE prvo sezono v drugi kategoriji in drugo mesto
MonAmi A2 - LARGE first season in the second category and second place
Bella (Isabella les ours gentils) AV - LARGE drugo mesto second place
15.10.2016 KD OBALA KOPER - DP 2016 - FINALE
Didido A1 medium J-9 mesto, A-7 mesto skupaj 8 mesto
MonAmi A2 large J-12 mesto, A-5 mesto skupaj 6 mesto
Bella AV large J-2 mesto, A-2 mesto skupaj 2 mesto
17.09.2016 Agility KD Zre?e
prvo tekmovanje na?e Didido v A1Medium sta z Melisa Tratnik pritekli drugo mesto, bravo.
MonAmi je bila v A2 Large ?etrta.
the first competition of our Didido in A1Medium with Melisa Tratnik they took second place, bravo.
Monami was in A2 Large fourth.
KD DOM?ALE - 18.06.2016
MONAMI A2L/disk, J/6--skupaj 13
BELLA AVL/1, J/ disk skupaj 2 mesto
12.06.2016 KD LJUBLJANA AGILITY
MONAMI A2L Agilty/6, Jumping/7--skupaj 6 mesto, oba teka brez napak
BELLA (Isabella les ours Gentils) AVL A/3, J/1 --skupaj 2 mesto
9.05.2016 KD AGILITY ILIRIJA MON AMI A2L A/4, J/5 skupaj4
23.04.2016 Agility KD Zagorje ob Savi MON AMI A2L, A/DIS J/2 --skupaj 8
16.04.2016 Agility KD Pluton MON AMI A1L, A/5 J/6 skupaj 4
Bella veterani skupaj 1 mesto
19.09.2015 AGILITY KD ZAGORJE OB SAVI, MON AMI A/6, J/13 skupaj 7
22.08.2015 AGILITY KD Celje MON AMI A/7,J/5 skupaj 3
21.06.2015 AGILITY KD Ilirija MON AMI A/13, J/10 skupaj 12
20.06.2015 AGILITY KD Ilirija MON AMI A-disk, J /17
16.05.2015 AGILTY Nova Gorica MON AMI Agility1/7 , Jumping1/5 mesto, skupaj 4 mesto
02.05.2015 AGILITY KD Celje MON AMI A1/DIS, J1/6 SKUPNO 11 mesto
22.03.2015 Opravljen izpit z Mon Ami RO I (139 dose?enih to?k od 150 mo?nih) sodnica Katja Skulj
14.02.2015 Druga tekma zimskega pokala 2014/2015 PRESTRANEK
MON AMI A1/11, J1/16 SKUPNO 20 MESTO
BELLA A1/6, J1/7 SKUPNO 3 MESTO in ZIMSKI POKAL 1 MESTO
20.12.2014 1. TEKMA ZIMSKEGA POKALA 2014/2015 PRESTRANEK, ?KD POSTOJNA
MON AMI A1/12, J1/20 SKUPNO 17 MESTO
BELLA (Isabella les Ours Gentils) A1/2 , J1/9 SKUPNO 2 MESTO
29.11.2014 Mon Ami je uspe?no (z 90 to?kami) opravila izpit BBH.
20.09.2014 AGILITY ZAGORJE Bella (J/DIS, A/12 skupaj 18)
MON AMI ( J/3, A/5 skupaj 1 prvo mesto ) in prvi pogoj za A2
23.08.2014 AGILITY KD Celje Bella (A1-4, J1-DIS skupno 6 mesto)
Mon Ami ( A1-20, J1-15 skupno 20 mesto)
16.-17.08.2014 AGILITY KD Duplica Bella (A1-4 in NS skupno 7 mesto / A1-11 in 4 skupno 7)
Mon Ami (A1-19 in DIS skupno 28/ 10 in DIS skupno 18)
09.-10.08.2014 AGILITY Celovec Bella (A1-DIS, J1-4/ A1-2, J1-2 skupaj 1PRVO MESTO)
08.08.2014 AGILITY Celovec Bella ( 4mesto)
13.07.2014 AGILITY ORS HSV Feldkirchen Bella (jumping-8 mesto, agility-9 mesto)
14.06.2014 AGILITY KD LJUBLJANA Bella (jumping -7 mesto, agility-7 mesto, skupno 5 mesto)
31.05.2014 AGILITY KD ?KOFJA LOKA ?ELEZNIKI Bella (Prvi tek 20 mesto, drugi tek 6 mesto skupaj 12 mesto)
18.05.2014 AGILITY KD PLUTON Bella A1 (Prvi tek 9 mesto, drugi tek 4 mesto, skupno 6 mesto
dva teka brez kazenskih to?k in narejeni pogoji za A2 )
6.04.2014 Rally Obidence KD Barje (Bella) 6. mesto ROII (Miran Mar?)
23.03.2014 Rally Obidence 4fun KD Duplica
22.09.2013 Rally obidence II KD Ljubljana - 8 mesto (Marjan Polajnar)
21.09.2013 Agility KD Zagorje J-9 mesto, A-14 mesto Skupaj 15 mesto (Lapanja Mirja)
07.12.2012 Rally obidence KD Maribor (Milan Mar?) uspe?no opravile izpit za ROII successfully passed the examination for ROII
Zaklju?eno je dr?avno prvenstvo v Rally Obidence 2012 z Bello sva zasedli
v skupni razvrstitvi RO-I 4mesto
21.10.2012 Rally obidence KD Pluton 8 mesto (Ana Dragi?evi?)
30.09.2012 Rally obidence KD Ljubljana 4 mesto (?tefan Kolman)
16.09.2012 Rally obidence KD Duplica 4 mesto (?tefan Kolman)
09.06.2012 Agility KD Zagorje J-14, A-DIS (Zlatko Gorjan)
02.06.2012 Agility KD Naklo J-7, A-3 skupaj 3 mesto
(sodnik Cvetka Gorjan)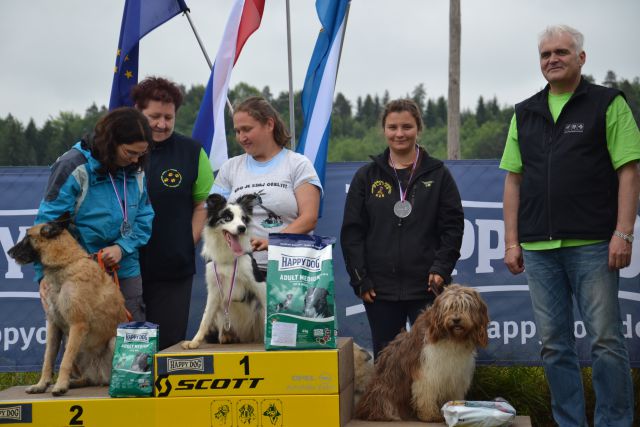 13.05.2012 Rally obidence (KD Celea) 7 mesto (sodnik Miran Mar?), ker se gospodi?na ni hotela vsesti v blato :)
12.05.2012 Agility KD Pluton A-10, J-11 skupaj 12 mesto
15.04.2012 Rally obidience (KD Barje) 2mesto
07.04.2012 Agility (Zagorje) J-14, AG-14
17.12.2011 Agility (Prestranek) J-DIS, AG-16
28.05.2011 Agility (KD Maribor) 17 mesto
21.05.2011 Agility (KD Slovenska Bistrica) 13 mesto
22.05.2011 Rally obedience (KD Ljubljana) 4 mesto
17.04.2011 RO Barje -10 mesto